Integrated Pressure Bearing System: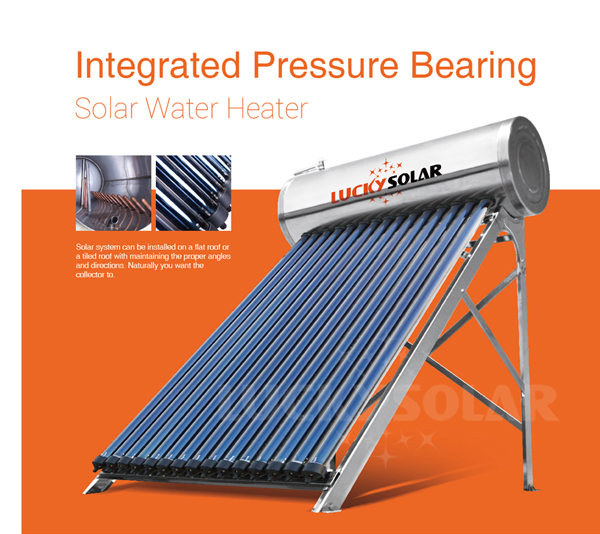 General Information
1. Integrated pressurized solar water heater working principle:
The vacuum tube absorb the solar ray and conduct the heat to heat-pipe (inside) by the aluminum slice, because the heat-pipe is connected with the copper connector which in the water tank, so there exists heat exchanging between the heat- pipe and copper connector, when the heat exchanging goes on, the water in the tank will be heated and become hot water.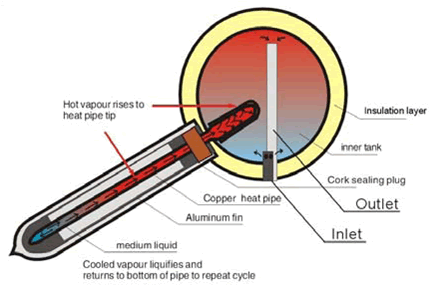 2. Advantage of integrated pressurized solar water heater
1. Pressurized system ensure to provide strong water flow for shower
2. This type doesn't need any controller, circulation pump, expansion pump. Feeder tank, it also can supplement cold water automatic
3. We use the advanced ring-argon arc welding .ensure the high quality.
4. Thickness of inner tank: 1.2mm-2.0mm food grade SUS304 stainless steel
5. Even there is a tube broken; the system can work in a good condition
6. This type is cheaper and easy install than the separated pressurized solar water heater. i think it will popular and have a good market .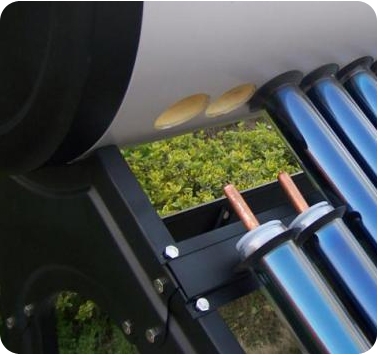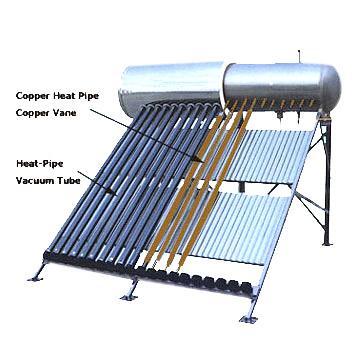 4. Solar evacuated tube heat pipe internals
A further, very important factor in selecting your evacuated tube collector is the quality of the internal heat-transfer-fin as this is often overlooked and generally very thin or poorly formed to cut costs, or is even 2 or 4 separate pieces. All this will ultimately reduce the efficiency of your collector, and as such your electricity saving.
Integrated Pressure Bearing System –JXIP-Serial Data Sheet
MODEL:

Solar Vacuum Tube

Aperture Area

Gross Area

Capacity

Loading Qty sets

Item No.

Qty /【pcs】

Size /【mm】

【M2】

【M2】

【L】

20GP

JXIP -58/1800/10

10

Φ58 X 1800

0.93

1.60

100

72/172

JXIP -58/1800/15

15

Φ58 X 1800

1.39

2.31

150

52/123

JXIP -58/1800/20

20

Φ58 X 1800

1.86

3.08

200

38/92

JXIP -58/1800/25

25

Φ58 X 1800

2.34

3.85

250

29/69

JXIP -58/1800/30

30

Φ58 X 1800

2.79

4.63

300

25/61
Integrated Pressure Bearing System Specification
SPECIFICATION

Material of out tank

201 stainless steel or 304 stainless steel.

Material of inner tank

Food grade SUS304-2B Stainless Steel.

Tank insulating layer

Imported polyurethane,55mm thickness can conserve the heat for maximum 72 hours

Welding

Argon arc welding

Water tank preformed hole

Magnesium bar, T/P valve, sensor hole, water inlet & outlet hole, electric heater .drainage.

EVACUATED VACUUM TUBES SPECIFICATION

Tube structure

All-glass double-tube co-axial structure

Glass material

High borosilicate 3.3 glass

Tube dimension

58*1800mm

Outer tube diameter and glass thickness

Ø58±0.7mm; Glass thickness 1.6±0.15mm

Inner tube diameter and glass thickness

Ø47±0.7mm; Glass thickness 1.6±0.15mm

HEAT PIPES SPECIFICATION

Heat pipe material

TU1 copper

Heat pipe condenser size

Ø14mm

Heat-transfer-fins

Al-alloy fins

Max.working temp

-30 ~250C

ΔT

35C(Radiation>=800w/m2.day)

Start-up Temperature of heat pipe

<=30C

Resistant Hail

≤25mm

Useful life

15 years

BRACKET SPECIFICATION

Bracket

201 stainless steel

Bracket angle

Slope/flat roof structure. optional

Fastening pieces

Made of zinc-coated stainless steel.